Recliner Chair Cover – Quilted Sofa Cover – Pockets Included
Knit that Fits Recliner Chair Cover is design for convenience and elegance.
Recliner Chair Cover can protect your sofa from children and pets and hide unwanted stains.
It's time to pamper yourself a little, relax on your recliner, watch T.V or just read. These quilted sofa covers will not affect your comfort
Knit that Fits Quilted Sofa Covers are best choice for sofa protection.
Measuring Guide
Always refer to measuring guide before purchasing arm chair covers online.
In case of any confusion you can reach out our 24/7 customer support.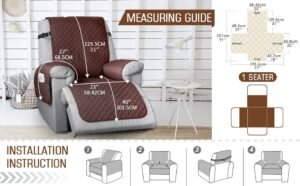 Knit that Fits Recliner Cover is suitable for chair seat width: 28 inches
Chair Cover is suitable for chair seat width: 22 inch.
Loveseat Cover is suitable for loveseat seat width: 47 inch.
Sofa Cover is suitable for sofa seat width: 67 inch.
Oversized Couch Cover is suitable for oversized sofa seat width: 78 inch.
Tip: Knit that fits sofa covers are in 1 piece and easy to install and remove. You can insert the excess fabric into gaps of sofa to provide fitted look and make your sofa new again
Ideal for Pets
Recliner covers does not catch pet hair and it's extremely easy to clean if there's any pet hair or left over snacks. These sofa covers are ideal choice for any family
It's quilted design makes is slip resistant and makes cover more steady
Fabric Details
Recliner covers are made with high density stitching and multiple layer fabric,. Sofa coats are soft and durable. In addition to this, these sofa protectors are fully reversible which makes it even more durable for your family and pets.
Utility Pockets
Utility pockets are added to sofa protectors for convenience. These side pockets can be used to put tablet, mobile phones, books, magazines etc.